Shidō


Info
Gender
Male
Age
No information
Height
No information
Weight
No information
DOB
No information
Blood Type
No information
Alice
Barrier Alice
Alice Type
No information
Alice Shape
No information
Alliances
Z
Anime
No information
Manga
No information
Shidō is one of Reo's agents and thus a member of the anti-alice organzation Z.
Story
Reo Arc
Shidō's Barrier Alice is what made
Serina Yamada
's
Sight Alice
unable to
locate
Sumire
,
Natsume
, and
Mikan
.
Final Arc
Alice
He has the Barrier Alice.
Relationships
Reo Mōri
Main article: Reo Mōri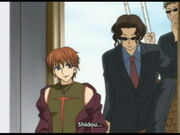 Ad blocker interference detected!
Wikia is a free-to-use site that makes money from advertising. We have a modified experience for viewers using ad blockers

Wikia is not accessible if you've made further modifications. Remove the custom ad blocker rule(s) and the page will load as expected.