Megane
Kanji

メガネ

Rōmaji

Megane

Nicknames

Megane

Characteristics

Ethnicity

Japanese

Gender

Male

Age

14 (Debut) [1]
15 (Chapter 140)
19 (Chapter 180)

Birthday

July 30[1]

Zodiac

Leo[1]

Hair Color

Grey

Eye Color

Grey

Blood Type

AB[1]

Alice

Alice
Alice Type

Alice Academy

School
School Positions

Special Training (Chapter 180)

Class

Personal Status

Status

Alive

Media

Manga
Anime
Megane (メガネ Megane) is a junior high school student in Alice Academy. He is in the Special Ability class and a friend to Tsubasa Ando and Mikan Sakura.
Story
Alice Festival Arc
He was part of the Special Ability class's RPG (role playing game)and he challenges anyone who can bring his soul back to his body and one of the challenges Natsume faced. Megane lost when Natsume made a flame that made his body hot causing him to return to his body before time ran out. Unfortunately for him, the water he drank was hot from Natsume's flame. Then, Koko reads his mind and he feels so ashamed that his spirit returns to his body. He is later seen along with his Special Ability classmates happily accepting the special award for the Special Ability Class's RPG.
Valentines Day
During Valentines Day, he accidentally ate a chocolate that made him grow a flower on his head. He was then found hiding with Tsubasa and Akira Tonouchi from girls who wanted to feed them chocolate with side effects.
Current Arc
Megane was one of the many who helped keep Mikan and Natsume's pursuers at bay. He is later seen with others who helped with the escape in a prison.
He and the rest of the Special Ability class manage to escape and meet up with Mikan's group. After being happy from the reunion, he tells Tsubasa about Misaki and others being changed into soldiers by Luna. Megane then urges Tsubasa to join them to rescue Misaki and the others. Tsubasa doesn't join them saying the woman he loves is strong and she would become mad at him for saving her.
Alice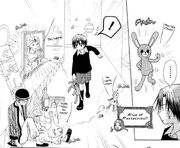 Megane has a the Possession Alice, a type of Spirit-hopping Alice that allows him to possess things like robots, oranges, and vases. While possessing an object, he is able to move around it. He has not been seen possessing a person or living being yet.
Notes
His nickname, Megane, means glasses or spectacles in Japanese, and like many other side characters in the series his actual name is unknown.
References