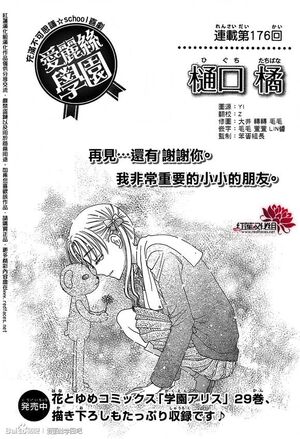 Date- March 19th, 2013
Synopsis
Mikan is about to leave the academy, but she still has her memories. Full of sadness, Mikan thinks about Hotaru and wonders what has happened to her last night. She remembers when Hotaru said "nothing can tear you and Natsume apart", and wonders what she meant by that. She is also worried about never being able to see Natsume again. All of Mikan's friends and classmates are with her to say a one last goodbye to her before she walks out the gates. However, she is surprised when the rest of the academy's students (middle and high school) come out to say goodbye to her. They shout out words of encouragement to her and hold up signs to profess their support for her. Mikan cries, saying how thankful she is to have the support of everyone around her and that she will never forget about them. Narumi says to Mikan that her presence in the academy has made a big difference in everyone's life. Because Mikan has not officially graduated from the academy, Narumi declares today as her graduation day and she has fulfilled the task of befriending all of the students and teachers.
When Mikan looks for Bear, linchou tells Mikan that Bear had mysteriously left. However, they suddenly hear strange noises coming from Mikan's suitcase. When she opens it, they find Bear inside. It gives Mikan a letter from Kaname, who wrote that he is entrusting Bear in Mikan's care because it doesn't want her to leave. Mikan is touched by Bear's love for her. Tsubasa opposes this arrangement and tries to take Bear back, but It kicks Tsubasa away and runs to Mikan, who embraces It. The HSP, witnessing this touching moment and understanding that the situation of being separated from her friends is already hard enough on Mikan, decides to let Bear leave with Mikan, on the condition that Mikan must never let anyone know that Bear is from the academy. Mikan agrees and embraces Bear.
Referbacks
Trivia
New Characters
New Alices
Cultural References
Unanswered Questions?
Will Mikan meet Natsume again?
Will Mikan get her memories erased?
Will Hotaru get back to the present?
Will Natsume save Mikan from losing her memories?
Will Mikan lose her memories?
Will Mikan get her alice back?
Memorable Moments
Bear loves Mikan! He packed himself away in Mikan's belongings, and was found out by Koko and Tsubasa.
Quotes
Ad blocker interference detected!
Wikia is a free-to-use site that makes money from advertising. We have a modified experience for viewers using ad blockers

Wikia is not accessible if you've made further modifications. Remove the custom ad blocker rule(s) and the page will load as expected.