Title- A New Found Strength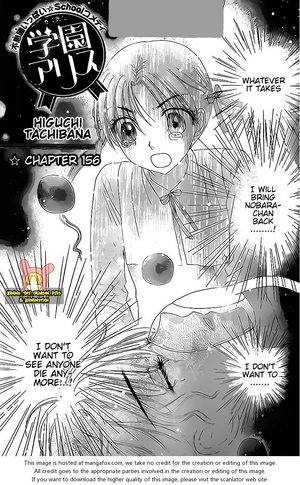 Date- December 5th, 2011
Synopsis
Continuation from chapter 155
As she removes the stones from Nobara's body, Mikan begs her to open her eyes and that she doesn't want another innocent person to die. Mikan successfully removes several of Persona's Alice stones from inside Nobara and Subaru gives her his Healing Alice stone to help the stains on her body disappear. Nobara physically returns to normal and her heart rate is normal again. Everyone is relieved, especially Mikan. However, Mikan is nearly overwhelmed with exhaustion due to her overusing her Stealing Alice. Persona is in the hallway when he discovers that Nobara is alive and well, and he is told by the ESP's men that the ESP has ordered that Mikan be captured before she can escape again. When they enter the room, the ESP's men tell Mikan that if she surrenders peacefully, they will not harm her. With strong eyes aimed at them and Persona, Mikan tells them that she will never give her Alice to anyone, especially the ESP. The ESP's men then attack her, Sakurano, and Subaru. Mikan uses her Nullification Alice to act as a barrier to cancel the men from attacking her. However, she again feels exhausted from overusing her Alice. Sakurano and Subaru consider teleporting Mikan to the MSP for her safety, however, they suspect that the ESP might have predicted her escape and sent his men to the Middle School Branch. They then decide that they have to fight the ESP's men. However, before they can, Persona betrays the men and defeats them himself, surprising Mikan, Sakurano, and Subaru.
Referbacks
Trivia
New Characters
New Alices
Cultural References
Unanswered Questions
Memorable Moments
Quotes
Ad blocker interference detected!
Wikia is a free-to-use site that makes money from advertising. We have a modified experience for viewers using ad blockers

Wikia is not accessible if you've made further modifications. Remove the custom ad blocker rule(s) and the page will load as expected.