Title- Persona and Nobara: The Encounter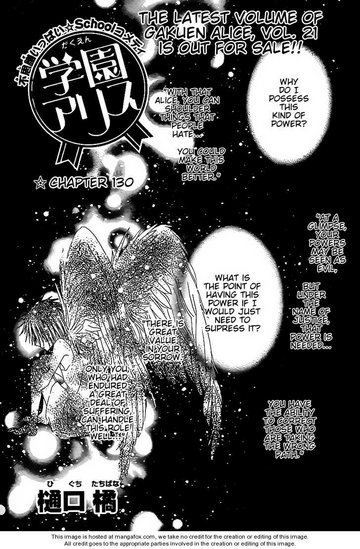 Date- April 20th, 2010
Next Chapter → 131 and Volume 23
Synopsis
Nobara has trapped herself and Persona, in a sort of ice dome she has created with her alice. She also releases those she has frozen out of that state, but has their feet lock in ice still. Nobara continues to preach Persona about changing and speaks about Yukihira not blaming him. Angered even futher, Persona attacks her with his Mark of Death Alice. In a flashback it is shown that a young Persona would be bring flowers to Yukihira's house, but because of his alice they will rotted. Nobara is consumed by Persona's alice as she keeps talking about Yukihira and falls. Nobara grabs on Persona's leg saying "It's Warm" , like she did when they meet after she was abandoned by her parents at the school. Persona is confused at Nobara's devotion to him and has a mental breakdown, which breaks his alice restaring earring. The ice house is broken and the Fuukitai, Hayate, and Youchi come across Nobara and Persona both down from Persona's alice. Their orders by the Fuukitai to capture Nobara, but she retailties that she will protect Persona.
Referbacks
Trivia
Persona was blamed for the accidental withered flowers he placed on Izumi's grave.
New Characters
New Alices
Cultural References
"easter eggs"
Unanswered Questions
Memorable Moments
Quotes
Ad blocker interference detected!
Wikia is a free-to-use site that makes money from advertising. We have a modified experience for viewers using ad blockers

Wikia is not accessible if you've made further modifications. Remove the custom ad blocker rule(s) and the page will load as expected.