Title- Mikan's Insertion Alice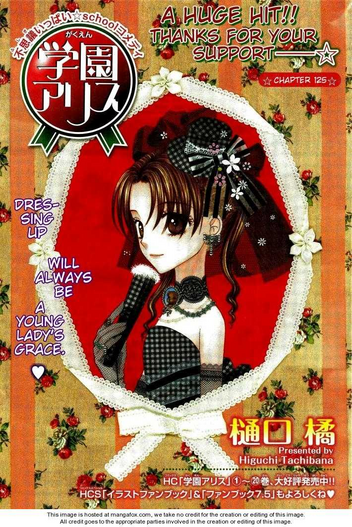 Date- January 20th, 2010
Previous Chapter → Chapter 124 and Volume 21
Synopsis
Youchi is captured by some Fuukitai members, but luckily he escapes thanks to Mr. Bear saving him with a pair axes. He arrives at Hana Hime Den with Mr. Bear in his 13 year old form where he meets Hayate and calls him "Dummy". While Hayate and Youchi bicker, Shizune asks if something bothering Hi-sama and she doesn't answer. Meanwhile Mikan's group is also having trouble with the Fuukitai, though it turns out to Goshima in disguise. Goshima tells Mikan that Yuka is waiting to run away with Mikan at the Keyhole. A letter from Yuka and a bag of alice stones suddenly arrive, which is probably sent by Yuka's alice. The letter says that if she also has the Insertion Alice she hopes the alice stones will be useful and to please be safe. There's doubt of Yuka's advice, but Goshima warns them that the ESP is serious about capturing Yuka. He has a search team of Dangerous Abilities, skilled ordinary students, and others who are forced to do this task, so that should at least try. After this Tono shoves his Amplification alice stone down Mikan's throat to try to awaken Mikan's alice, much to everyone's shock. A white glow then surrounds Mikan and Hotaru tests if her Insertion Alice awoken with another of Tono's alice stone, which with ease disappears in Mikan's hand. Hotaru orders that they should quickly find compatible alice stones and says to Mikan that she is their only hope. Mikan agrees to and everyone is ready to fight.
Referbacks
Trivia
New Characters
New Alices
Insertion Alice- Mikan Sakura
Barrier Alice- Two Hana Hime Alice Members
Cultural References
"easter eggs"
Unanswered Questions
Memorable Moments
Quotes
Ad blocker interference detected!
Wikia is a free-to-use site that makes money from advertising. We have a modified experience for viewers using ad blockers

Wikia is not accessible if you've made further modifications. Remove the custom ad blocker rule(s) and the page will load as expected.