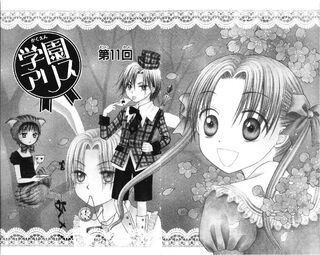 Title- Plans
Date
Previous Chapter → 010 and Volume → 02
Synopsis
Its Autumn in Gakuen Alice and almost time for the Cultural Festival or Alice Festival. Mikan is excited and thinks about what Narumi told her about befriending others. Mikan then attempts to make friends with Natsume her number one most hated person. Meanwhile Ruka finds out about Hotaru selling pictures of him from last chapter. Ruka chases after her and they come across Narumi and Misaki who talking about Narumi meeting Mikan's family. The conclusion of Mikan's attempt to make friends ends with Natsume burning her hair. All the classes seem to be quite popular, but when Mikan asks about the Special Ability she is told by the bully from Chapter 8 that it was the least popular. He also turns to Natsume and says that the Dangerous Ability are unable to enter the festival. Natsume inflames his hair and leaves; much like he did in their last meeting. This bully turns out to be Sumire's older brother who came to look for Hotaru, but he leaves learning that she didn't remember him. Mikan then goes on a walk and finds Natsume who says the festival is useless. Her class has no plan for the festival and aren't excited about it, until Mikan comes up with an idea for the festival. At the end of the chapter Ruka skips out with helping with his booth to hang out with Natsume.
Referbacks
Trivia
Higuchi makes a reference to Gakuen Alice characters Natsume and Mikan and M & N shouzou characters Mitsuru and Natsuhiko both starting with the same letter; calling them M & N parings.
Higuchi also states about Mikan and Narumi sleeping together not thinking it would bother anyone in Chapter 10 and has Misaki as Narumi's spokesperson.
New Characters
New Alices
Cultural References
"easter eggs"
Unanswered Questions
Memorable Moments
Quotes
Ad blocker interference detected!
Wikia is a free-to-use site that makes money from advertising. We have a modified experience for viewers using ad blockers

Wikia is not accessible if you've made further modifications. Remove the custom ad blocker rule(s) and the page will load as expected.